On Sunday, September 24, the National Sailing Hall of Fame celebrated its seventh class of Inductees.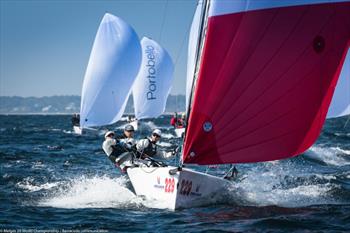 The ceremony of celebration was hosted by the New York Yacht Club (NYYC) at the magnificent Harbor Court clubhouse in Newport.
The background for the Induction would not have been better: a busy harbor of Newport on an early fall afternoon. The eight Inductees, which include three posthumous honorees, celebrated the kind of performance they have had on the sport. The National Sailing Hall of Fame is dedicated to protecting and preserving the tales of these sailing heroes to give an inspiration to the future generations, has now protected 65 heroes of the sport.
The personalities who got inducted to the National Sailing Hall of Fame as the members of the 2017 Class include Bill Bentsen, a two-time Olympic medalist, Ray Hunt 5.5 the World Champion, Clark Mills, best-known as a designer of Optimist dinghy which children of under age 16 use; Robby Naish the windsurfing superstar, Randy Smyth the Tornado Olympic Silver Medalist, Tom Whidden the noted America's Cup sailor. Two Inductees (additional) were awarded with the Lifetime Achievement Award NSHOF and this includes Bill Martin and Corny Shields.
Inductee, Bill Bentsen shared his thought then-teenage Gary Jobson "You share your thoughts and ideas with your competitors and they will do the same with you.," Bentsen was unable to attend the ceremony as a person, but he watched it via live stream with his family and friends in Wisconsin at Lake Geneva Yacht Club (LGYC). In a prepared statement, which was delivered by Inductee Timmy Larr in the year 2013, Bentsen said: "We the 2017 class are a varied group of builders, designers, competitors and volunteers, who are involved at every level of our sport. What we all share is a thought of optimism."